Four Incredible New Acquisitions!
Boy, have I picked up some nice, early models lately that you'll want to see! I was planning to wait until the watches arrived to post them, but I see that they are already being posted on other sites by seemingly sore auction losers. Imitation is the highest form of flattery, right? Anyway, the seller's pics and details will have to do for now until I receive the watches and can get new photos and additional information. To call these beauties rare would be an understatement. I've never seen any of these come up for auction before, and I am deeply honored to have them in my collection. I have not had a chance to do much research on them, but what little I know at this point is included below the images. Note that three of them are solid sterling silver--not something you see every day in a vintage Bulova!
1932 Calendar Watch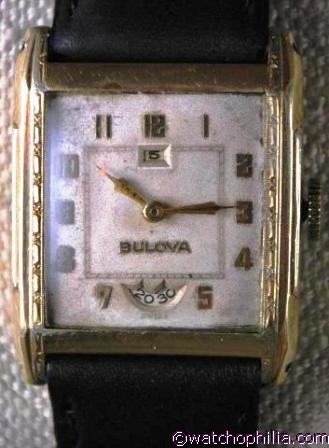 Details (per seller and pics):
10AC, 15-jewel movement with serial number 576625
1932 date code on movement
1927 patent date on case
Yellow gold filled, hinged case with dust shield/ring intact
Case signed inside "Bulova Quality"
Case serial number 2227763, which indicates case date of 1932
Observations (mine):
Movement date and case serial match and indicate a production date of 1932
All elements of the watch, including case, movement, and dial, are properly signed and indicate a genuine Bulova watch
I have seen one other example of a similar calendar watch from this same time. It was tonneau shaped, similar to the one shown in the 1935 Swartchild & Co Catalog excerpt above, except the calendar window was at the 3 position instead of under the twelve. The one shown in the catalog is quite close to mine--just a different shape--and shows that Bulova did produce these early calendar watches
1942 Single-Button Square Chronograph
Details:
10AH, 17-jewel movement, USA
1942 date code on movement
Hefty, solid sterling silver case marked on back "0.925, Sterling Silver"
Case signed inside, "Bulova, Fifth Ave, New York"
Bulova signed case, movement, and dial
No serial number on case
Observations:
Quite a few case makers produced similar, square chronographs in the early 1940s
The lack of a case serial number is not surprising, as solid gold and silver models often did not follow the normal case marking conventions
The seller included the image shown above of an excerpt from a book showing early square chronographs but could not tell me the title or author of the book. Any suggestions?
I read on this online resource that the .925 designation was/is used in the U.K., U.S., Ireland, Denmark, Netherlands, and Israel: www.925-1000.com/a_Standards.html
Research is ongoing regarding the purpose of this watch and the markings on the dial. Additional findings and images of similar models from other makers will be published when the watch is listed in the full collection
ADDENDUM 01/23/13: The book excerpt above is from "Chronograph Wristwatches: To Stop Time", by Gered-R. Lang and Reinhard Meis. It is a beautiful book with several nice images of Bulova watches--in addition to the square chrons shown in the excerpt above--all of which I will be sharing with you in the coming days.
1924 Cushion Strap Watch with Seconds Hand
Details:
10A, 16-jewel movement, Swiss
1924 date code on movement
Solid sterling silver case marked inside "Bulova Watch Co., Swiss, Sterling Silver, 0.935"
Bulova signed case, movement, and dial
Case serial number of "353"
Inside of case also reads "S" and includes a tiny animal figure that may be a lion
Observations:
We now have vintage advertisements that show this style of watch in the early 1920s, such as the one shown above from 1924
The non-standard case serial number is not surprising, as solid gold and silver models did not follow the normal case marking conventions and pre-1926 models often did not include serial numbers with any date correlation
I assume the seconds hand is a replacement, but its presence did allow me to confirm that the movement is fully functional
The strap, if not original, is quite old and wonderfully designed
I read on this online resource that the .935 silver designation is/was used by Austria, Germany, and Switzerland, while the .925 designation was/is used in the U.K., U.S., Ireland, Denmark, Netherlands, and Israel: www.925-1000.com/a_Standards.html
I have received this one, and the sterling silver cleaned up incredibly well. It is a beautiful watch. I'll post new pics when I list it in the full collection
1924 Sterling Silver Men's Watch
Details:
9AA, 17-jewel movement, Swiss
1924 date code on movement
Solid sterling silver case marked inside "Bulova Watch Co., Swiss, 0.925"
Bulova signed case, movement, and dial
Case serial number of "1265"
Inside of case includes a tiny animal figure that may be a lion, identical to the one seen above in the 1924 cushion model
Observations:
Vintage advertisements show this style of watch in the early 1920s (see ad excerpt above)
The non-standard case serial number is not surprising, as solid gold and silver models did not follow the normal case marking conventions, and pre-1926 watches often did not include serial numbers with any date correlation
I read on this online resource that the .935 silver designation is/was used by Austria, Germany, and Switzerland, while the .925 designation was/is used in the U.K., U.S., Ireland, Denmark, Netherlands, and Israel: www.925-1000.com/a_Standards.html. Interesting that this watch has the .925 designation but is marked Swiss. See above for another Swiss-made model marked 0.935.
I expect this one to clean up as nicely as the one above has done and will include it in the full collection after it has been de-tarnished