Watch of the Week - March 15, 2013
This week's featured watch is one that I just purchased and am waiting with bated breath to receive. I've never seen a Bulova watch like this one. It may be one-of-a-kind, or it simply may be an ultra-rare find. The watch was made in 1928/1929, according to the date symbols on the movement (quarter moon and shield), along with the case serial number, which begins with the number "8". (For more information on determining the date of a Bulova watch, visit Dating a Bulova.) For those of you new to vintage Bulova watches, this is a man's watch, despite its relatively small size and ornate embellishments. This was the style in men's watches of the late 1920s.
Two things make this watch noteworthy. First, is the solid gold case. Solid gold cases were common in the 1920s, but few of them have survived this long, and most of those that have are ladies' watches. This is one of only a few solid gold men's models from this time period in my collection. I rarely see them offered for sale. The case composition alone makes this an extraordinary piece.
The second unusual characteristic of this watch is the four diamonds on the bezel, one on each corner. I have never seen a man's Bulova watch from the 1920s embellished with diamonds. I am simply thrilled to have this one in my collection.
The dial of the watch is original and in excellent condition. The hands were no doubt changed somewhere along the way from the original lumed, cathedral style. The watch runs on a Swiss-made, 17-jewel 9AT, bearing the "Bulova Watch Co." signature. The single-hinged case is signed "Bulova, New York", and bears the 1927 case patent date and the gold content designation of "14K". The strap is not original to the watch.
The design of the case appears quite similar to the "President Madison" model of the same time period, though this watch does not have the black enamel embellishments characteristic of that model, and that model does not have the four diamonds seen on this watch.
Please take a moment to enjoy this rare beauty as this week's pic for "Watch of the Week".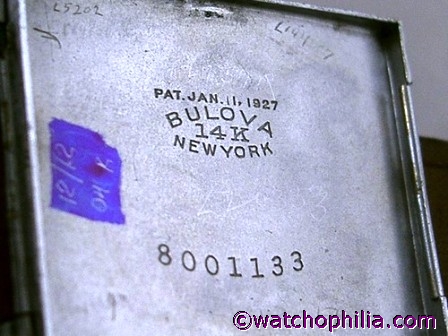 If you have seen an identical or similar model, or have additional information regarding this watch, please share your knowledge with us.